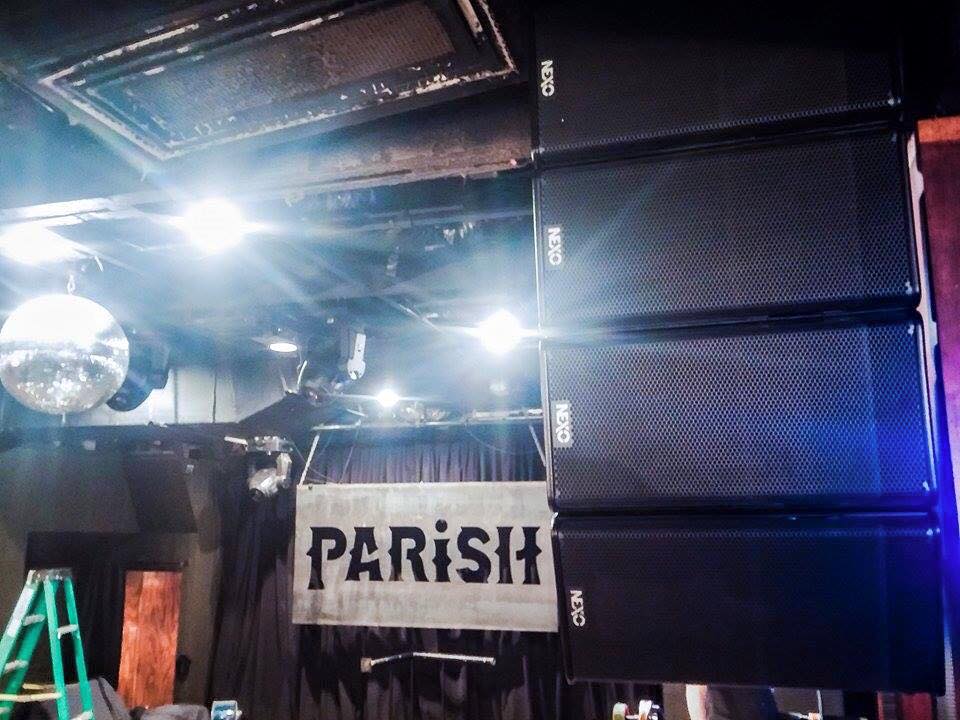 Located in the historic 6th St. District, The Parish has arguably been the best indoor live music venue in Austin for the last decade. With a reputation for providing high quality production for musicians, and intimate experiences for audiences of 450, the space has hosted musical legends such as Pete Townshend, Slash, Perry Farrell amongst many, many others. Keeping their unrivaled reputation for quality in mind, we eagerly accepted their offer to design and install a state-of-the-art audio system, capable of satisfying even the most eccentric demands and artistic requests.
Our NEXO-Centric solution consists of:
8x GeoS-1210 compact line-array cabinets flanking the 16ft wide stage.
4x Nexo RS18 Double 18″ subs, each capable of outputting +140dB SPL.
8x 45ºN12 Stage Monitors, first to bring line array technology to the stage.
PS15 & LS18 Combo acting as a drum fill with serious output capability
Controlled by:
1x Yamaha CL5, 48ch digital workhorse at the FOH Mix position &
1x Yamaha QL5 in the Monitor Mix position.
System Powered by:
5x NX-4X4 Amplifiers Each offering 4000W across 4 independent channels
Feeding the FOH GeoS12s and RS18s a delicious 30,000W &
Powering the on stage monitors with an unheard of 16,000W
Completing the package is the NX-4X4 Digital Input Card, making the entire PA signal path digital from microphone preamp, all the way to the amplifier output.
Using Nexo's NS1 Acoustic Prediction Software we are able to digitally model the acoustics inside the venue, giving us the ability to precisely aim and phase align each speaker to perfection.
The final result succeeds in delivering unparalleled power, sonic clarity, and flexibility to both musicians and their audience, solidifying the venue's legacy for years to come.