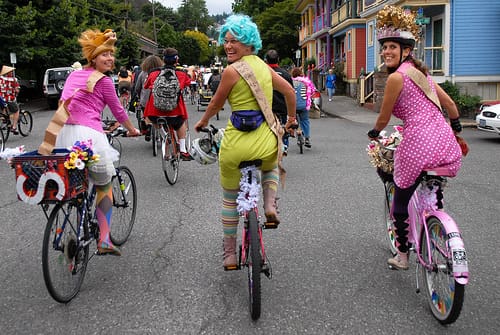 Gas Works Park has been completely transformed with New Belgium Brewery's elaborate set themes and decor. The bicycle-themed festival is ready to hit Seattle's morning fog in full force, with 4 bands, and 6 family friendly comedy performances! All stages are 100% solar powered, and New Belgium expects that over 93% of all waste generated at the show will be diverted from landfills.
Around noon the sea-layer fog is expected to dissipate, allowing the beautiful Seattle summer sun to break through, fueling the entire event's power needs.
Tour de Fat, Seattle runs from 9am-5pm in Gas Works Park. Be sure to arrive early, and express your unique style in the most elaborate/funky way possible.
And of course, this is a bicycle friendly event, with all proceeds benefiting the Bicycle Alliance of Washington. Find more information at the following:
http://bicyclealliance.blogspot.com
http://www.newbelgium.com/tour-de-fat