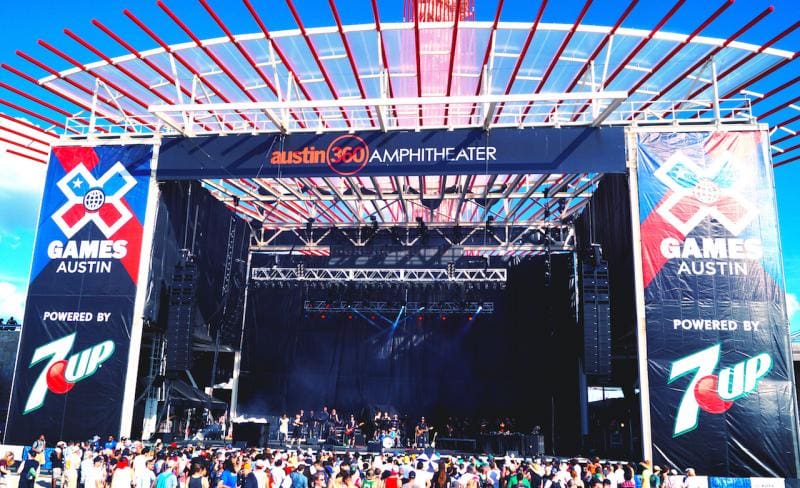 Nomad gains accolades from LiveDesign for NEXO STM usage in Austin during X Games 2015.
We provided full STM and PS-15 rigs for the live sound needs of the Glitch Mob, Deltron 3030, and more…
Read the full article: http://livedesignonline.com/nexo-stm-and-nomad-marks-spot-again-austin
BUENA PARK, Calif.—Nomad Sound of Austin, TX provided a NEXO STM line array for the X Games held in early June in Austin. The rig was provided for The Sound Factory Stage at the austin360 Amphitheater. The X Games are a jam-packed few days of skateboarding, BMX, Moto X, rally racing, eSports, music, and more. Talib Kweli, Pennywise, Kid Ink, Joywave and Deltron 3030 performed on The Sound Factory stage.

"Our NEXO rig was the perfect solution for the X Games weekend, states Stefan Bouts, Nomad System Tech. The austin360 Amphitheater is nearly 300 feet of a wide, steady upslope to the rear of the venue, and as such, it needs a system that can throw clearly and powerfully all the way to the "lawn", the open grass area in the rear. The NEXO STM system did so with ease. Multiple guest engineers stepped in over the weekend with acts like Talib Kweli, Deltron 3030, and The Glitch Mob, and all of them were totally delighted with the response of the system. When there were no guest engineers, our FOH engineer Matt Trevino piloted the system for us with Andy Tindall running our monitor system." Joel Hume handled audio production management.

The main rig consisted of six S118 modules flown per side above nine coupled M46/B112 modules, with two M28 modules used as down-fills, two GEO S1210 boxes were flown as out-fills, four NEXO PS10 boxes were used as front-fills, twenty dual 18' subwoofers downstage, and fifteen NXAMP4x4 amplifiers were used to power the main rig.

"For the stage monitor rig, we used twelve PS15R2 boxes as monitors wedges that provided excellent coverage of the very large deck at Austin360, regardless of the size or scope of the act." says Bouts. An RS18 Ray Sub was used as a drum sub with two GEO S1210s flown over an RS18 for side-fills. Four NXAMP 4×4 powered the monitor rig. "More than a few artists over the course of the weekend told us that it was the best they had ever heard themselves sound, Bouts added.

"Beside the in-show performance of the system, the speed and ease in deployment and strike of the system made for another huge reason the NEXO STM system was selected, notes Bouts. We flew the main array with only two techs, and when it came time to strike, our entire system was in trucks and headed back to the warehouse in well under three hours. All in all, it was a fantastic weekend, and all of us at Nomad Sound are excited to have such an incredible system at our disposal."

For more information on Nomad Sound, visit www.nomadsound.net.

For more information on NEXO products, visit www.yamahaca.com.

About Yamaha Professional Audio:

Yamaha Professional Audio (YPA), a division of Yamaha Corporation of America, provides a full line of professional audio products offering complete systems solutions for the sound reinforcement, touring, broadcast, commercial recording, and post-production markets. The PA Division offers a complete line of digital mixers, amplifiers, speakers, processors, networking capabilities, Steinberg products, and the NUAGE Advanced Production DAW System. Yamaha Professional Audio is also the official North American distributor for NEXO speaker products. With the Commercial Installation Solutions (CIS) Series offering ceiling and surface mount speakers, mixer and power amplifiers, and matrix processors the PA Division furthers its commitment to their professional customer base. All market sectors receive comprehensive in-house/field product training, a dedicated dealer network, and 24/7 technical support services.