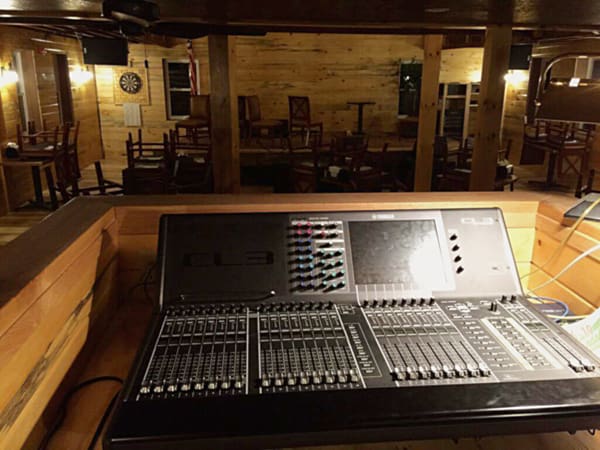 Originally built in 1830, the historical Apalachin Tavern in upstate New York has been reborn as the Ransom Steele Tavern, filling a hole in this neck of the woods by providing a place to eat, drink, and listen to bluegrass/blues folk music.

Every square inch of the 400-person capacity Ransom Steele Tavern was touched over the past couple of years during various stages of its re-birth. The stage was one of the first areas to be built, followed by installing a sound system. Nomad Sound of Austin, Texas was hired to design and install a sound system that would not compromise the look or feel of the renewed Tavern but be a serious enough system for the patrons and bands coming through.

"I initially did a walk through of the building and thought the NEXO PS15 and 10 Series combination would be perfect to cover the space and look good as well, states Wellwarth, production manager at Nomad Sound. The NEXO system consists of two PS15s on the main floor PA, two PS10s on the upper level to cover the balcony, four LS18 subs, four NEXO 4×4 power amps powering the system, and a Yamaha CL3 digital audio console at front of house with an iPad used for monitors thanks to the console's StageMix App, and a Rio3224-Dinput/output box." Stefan Bouts and Randell Squires of Nomad worked alongside Wellwarth as installation techs.
"The building has been completely renovated inside and out, states co-owner Michael Liberty. The bar was left in the same spot as it has been since the 1940's but everything around it has changed. It is a two level venue with catwalks and a balcony to view the music from, as well as a dance floor. The opening weekend was the start of a new life for the historical tavern. It was like witnessing a barn raising all over again, difficult to describe in words, but you can catch a glimmer of something special, seeing the old Tavern renewed and revitalized."
Wellwarth said he mixed the second show at the tavern to ensure there was even coverage throughout the room. "The system sounds great and the wood in the room adds to its rich sound."
"The system sounds clear and very powerful, says Liberty. It fills the entire room without blowing people out of their shoes with a very crisp, clean sound. You are able to detect each and every instrument being played."
See the full Yamaha Press Release Here.